Sharkmob takes any harassment or violation of our code of conduct extremely seriously, both inside and outside of the game.
For this, we have a dedicated team that will conduct investigations and take the necessary actions to ensure that our players have a fun time playing the game. Together with our internal tools, we can better identify any type of violation with your assistance.
Therefore here, we will explain how to report a player who you suspect of cheating, exploiting, scamming, or any other type of harassment.
There are two options for doing so:
In-Game Report Tool
When you are in "Spectating" mode:

For PC, press R.
For PS5, press triangle.

Choose a reason for your report.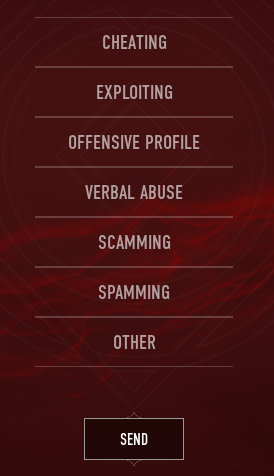 Player Report Ticket
Make sure you have enough evidence to support your claim. If you are not confident in your evidence, do not create a ticket.
Sometimes things are not always as they appear. A potential speed hack could have also been caused by lagging and a potential wallhack could simply be because the other player heard you first.
Abusing the system and reporting too many players without proper evidence, may result in getting your own account restricted/banned.
Go to the "report player" form.
Fill out the report form.
For the best support on your report, we recommend that you add a link to your recording.

If you recorded the violation you can upload it to YouTube as an unlisted video. You can also add a link to your Twitch recording or a link to any other media where you saved your recording.
If you saved the recording locally or if you only have a screenshot, you can also attach it further down in the form

Provide a detailed description in the form.

The more detailed your description is, the more credible your report will be. So feel free to share as much as possible to support your claim.
Make sure your description of the violation is clear and concise. If you suspect the player of cheating, describe the cheat in detail and let us know the reasoning you used to determine the cheat.
If there are other players in the video or on the screenshot, than the player you wish to report - make sure to clearly state who, where and at what time the violation occurs.